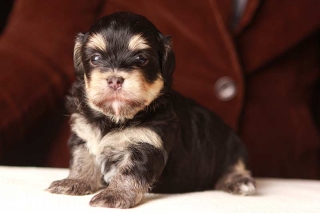 Alvin the Great… (Male Black & Tan Havanese Puppy) His posture says it all. Next to Eleanor, he is the next reserved personality, and I think he will be a great companion dog, much like our "Choco" who will patiently wait outside the bathroom, or in the kitchen for us when we are preoccupied.
Interesting Note: He was the first to climb out of the whelping box (all by himself) at 3.5 weeks.
He is available as a pet/companion (limited AKC registration), to breed/show (Full AKC Registration.) Full registration is subject to our approval. All our puppies come with a lifetime hereditary health guarantee. Please contact us if you have questions, or interest: 304-667-6993 info@championhavanesepuppies.com
He is available now.