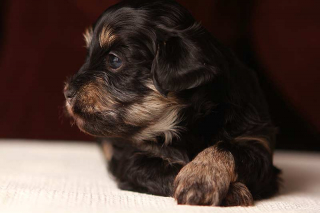 Simon the king…. This puppy already has a quiet confidence with spunky undertones (he is the largest of this litter) nothing phases him. Our perception at this time is that he would be good in the ring presuming he passed his evaluation. He also feels like he would be a great bonder with a human pack (but really most Havanese are, so I guess that isn't saying much.).
Available as a pet/companion (limited AKC registration), or to breed/show (Full AKC Registration.) Full registration is subject to our approval. All our puppies come with a lifetime hereditary health guarantee. Please contact us if you have questions, or interest: 304-667-6993 info@championhavanesepuppies.com
He is available now.